"such a beautiful addition to my meditative practice. I feel a strong sense of connection to my third eye" - Molly
Regular price
Sale price
$44.00 USD
Unit price
per
Sale
Sold out
Primary Benefits

*Activate Your Third Eye & Decalcify Your Pineal Gland
*Boost Your Energy & Overall Vitality
*Support Immune System & Your Body's Resilience
Ingredients

Wild Piñon Pine Needle, Twig, Resin, Pollen & Cone Infused in Blessed Sacred Water & Organic Grape Spirit (Alcohol), Pine Hydrosol / Essential oil, Birch Bark Extract (Xylitol), Organic Vegetable Glycerin, Essential Oils of Wild Piñon Pine Needle, Twig, Resin & Cone, Calcined Crystal Plant Salts, + All Our Love!

Pure, Organic / Wild, Plant-Based (Vegan)

Sustainably sourced & Lovingly crafted with heart centered focus.
How to use

Take 1 to 2 droppers full, 2-3 x per day by placing under your tongue and breathing deeply before ingesting; focus on your brow point, visualizing your entire being filling with light, with a smile, while feeling happy, alive and energized in your body.

Daily use is recommended and encouraged.
Shipping

We ship with care from AZ or MI, USA within 1 business day.

For questions about the status of your order, please email: support@kejiwastore.com
Return policy

We accept returns of unopened / unused alchemy within 30 days of receiving your order.

To initiate a return, please email: support@kejiwastore.com
View full details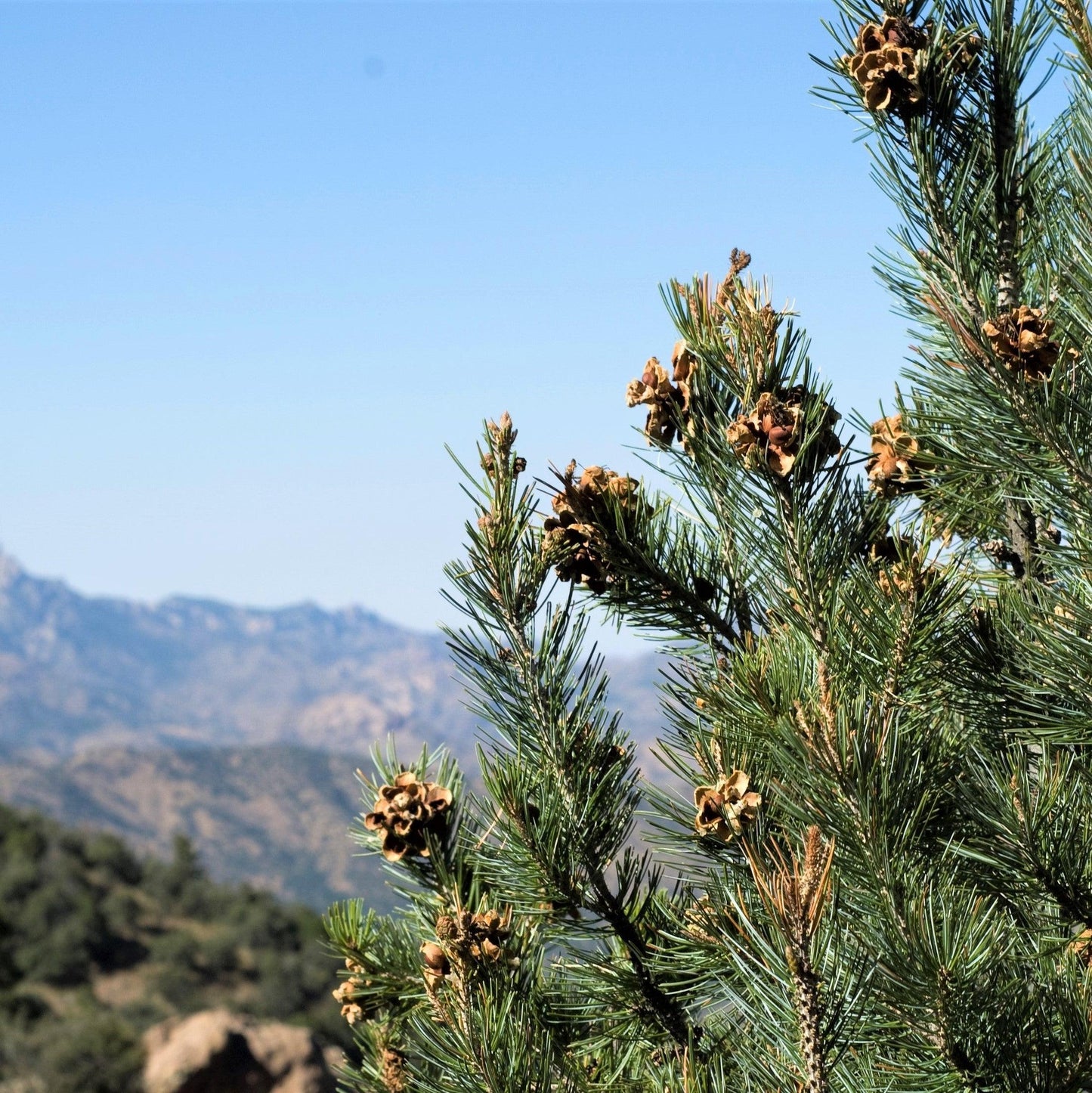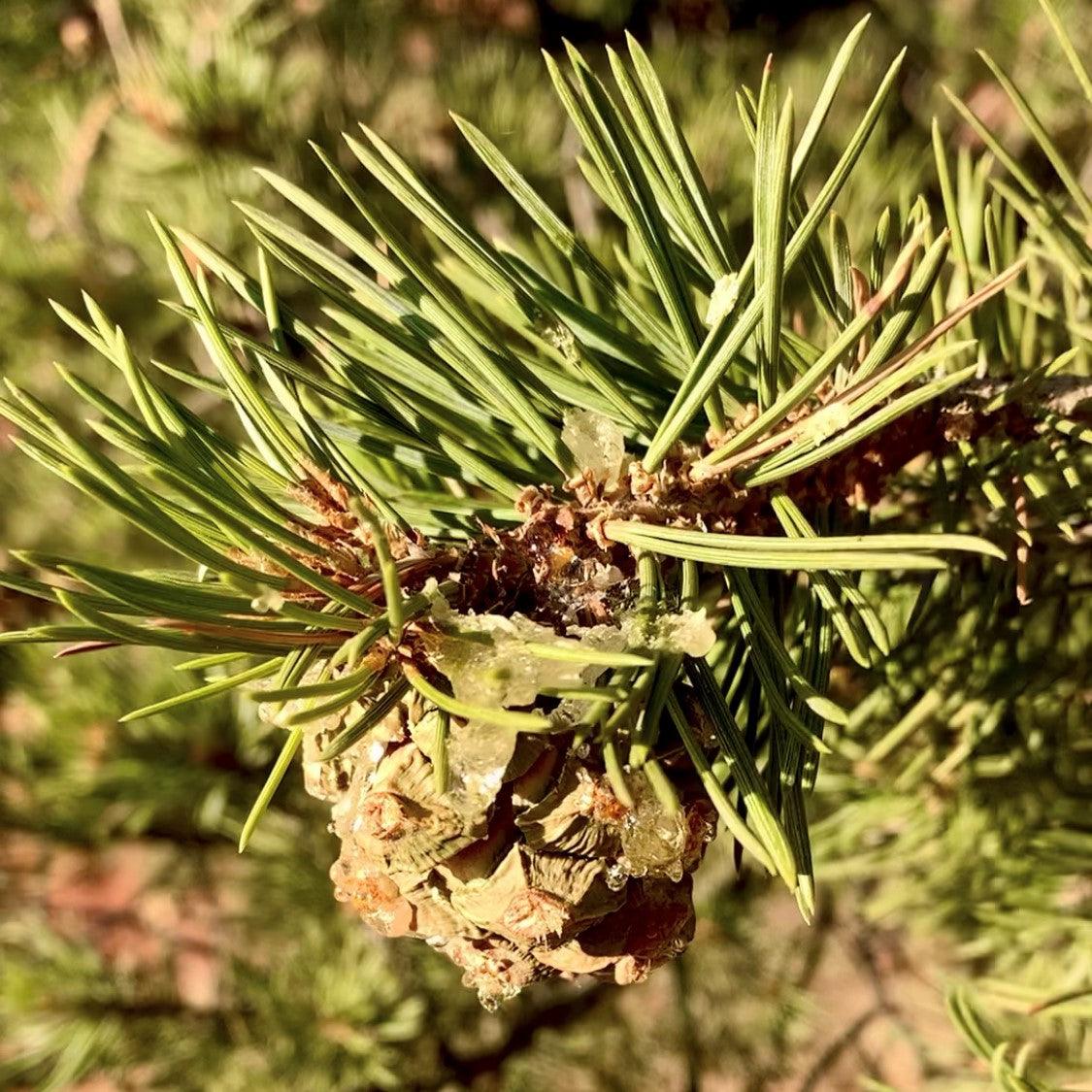 Piñon Pineal Spagyria
Elevate Energy Levels, Enhance Focus and Increase Longevity with this Potent Pine Herbal Tincture.
As a master rejuvenator and adaptogen, this powerful nootropic tincture is perfect for those seeking greater mental clarity and sustained focus. The nutritional powerhouse of pine pollen also makes this tincture an excellent hormone balancer for both men and women.
This ancient plant ally has been used for centuries to promote longevity and activate your third eye chakra. Our sustainably wild-harvested Piñon Pine is handcrafted with love and intention, providing a broad spectrum super boost for the body, mind, and spirit.

Harness the power of the high desert of Sedona and experience the benefits of this powerful herbal tincture today. 


Piñon Pineal Spagyria Benefits
*SPIRITUAL ACTIVATION AND HIGHER KNOWINGNESS – This wondrous plant ally is activating to the brain, bringing quick clarity and effective focus.

*THIRD-EYE OPENING - Through meditation with this tincture, a palpable pineal gland activation may be felt. This gland physically controls the important circadian rhythms of the body and energetically connects to your intuition.

*HEALING FROM THE ANCIENT FOREST - Piñon Pine needles are rich in Vitamin C, antioxidants, and beta-carotene which strengthens your immune system and eyesight.

*MASTER REJUVENATOR AND ADAPTOGEN - increases longevity while instilling vim, vigor and vital energy

*NUTRITIONAL POWERHOUSE - Piñon Pine Pollen, revered as a superfood, powerfully balances your hormonal system

*IMMUNE BOOSTING - Contains naturally occurring shikimic acid, Vitamin C, anti-oxidants and other immune supporting compounds.

*WILD & PURE INGREDIENTS – We use the highest-quality plant materials, essential oils, pure Grape Spirit and blessed Sacred Water for a pure and magical experience.

If you're looking for the ancient wisdom and healing power of the strong and resilient pine tree to add to your daily ritual for clarification, rejuvenation, and an energetic boost, we recommend our Piñon Pineal Spagyria.


May this alchemy be utilized for your highest spiritual unfoldment and day to day active service to the planet.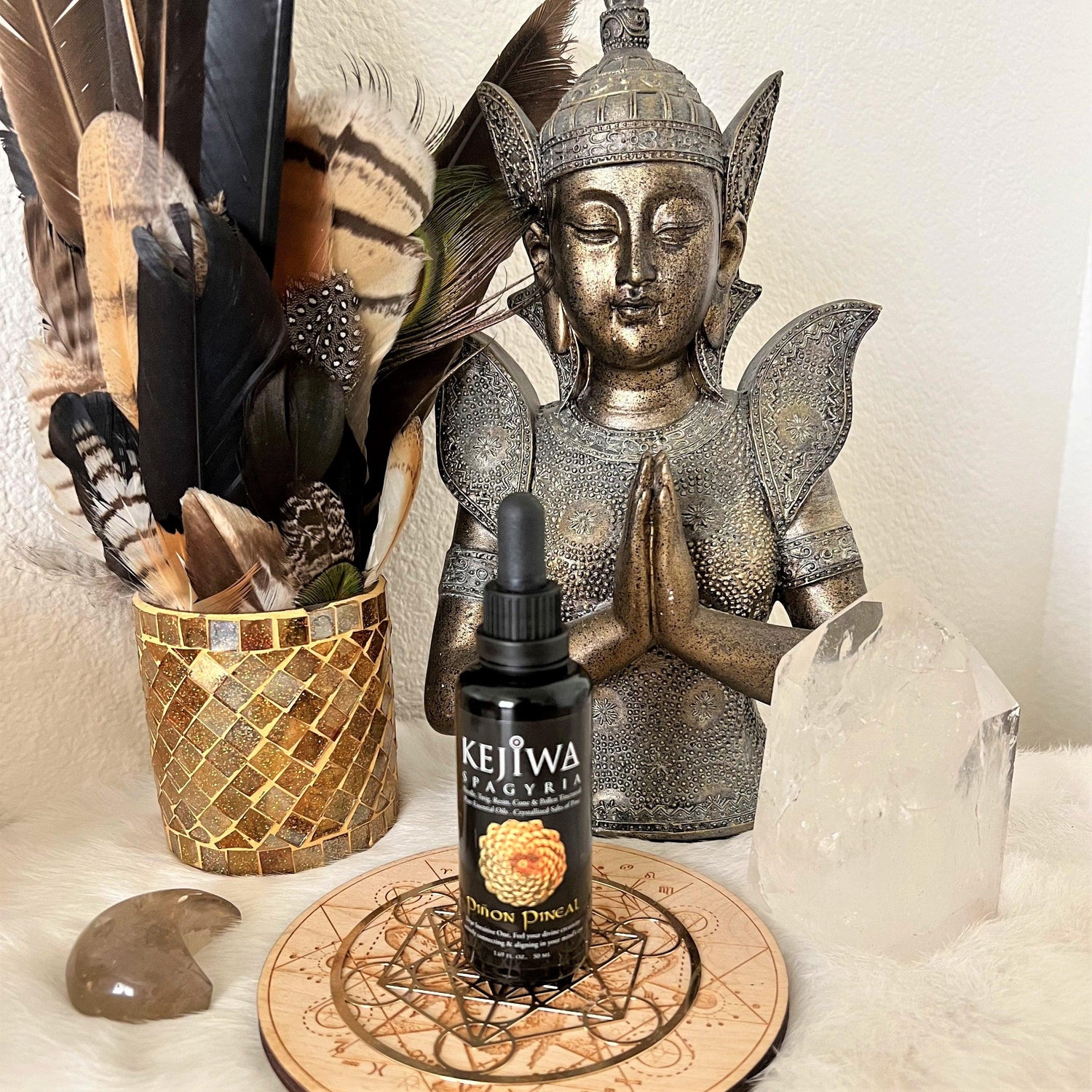 How To Use Piñon Pineal Spagyria
We recommend honoring this alchemy with a place on your altar and clarifying your intentions before each dose.

Place1 to 2 droppers full under your tongue, 2-3 x per day, breathing deeply before ingesting. Focus on your brow point, visualizing your entire being filling with light, with a smile, while feeling happy, alive and energized in your body.

Daily use is recommended and encouraged.

Piñon Pineal Spagyria is meant to be utilized as a daily supplement for regular rebalancing and rejuvenation.

You may also utilize this alchemy as an energetic boost in the middle of the day or anytime you need to fire up your intuitive energy to receive clarity on a situation.

If you have allergies to pollen, you can absolutely still work with this Spagyria. We recommend starting with a smaller dose to build up your resilience. Many people experience relief from their allergy symptoms when utilized in this way.

***Consult your midwife if pregnant or for infants. Generally not recommend while pregnant.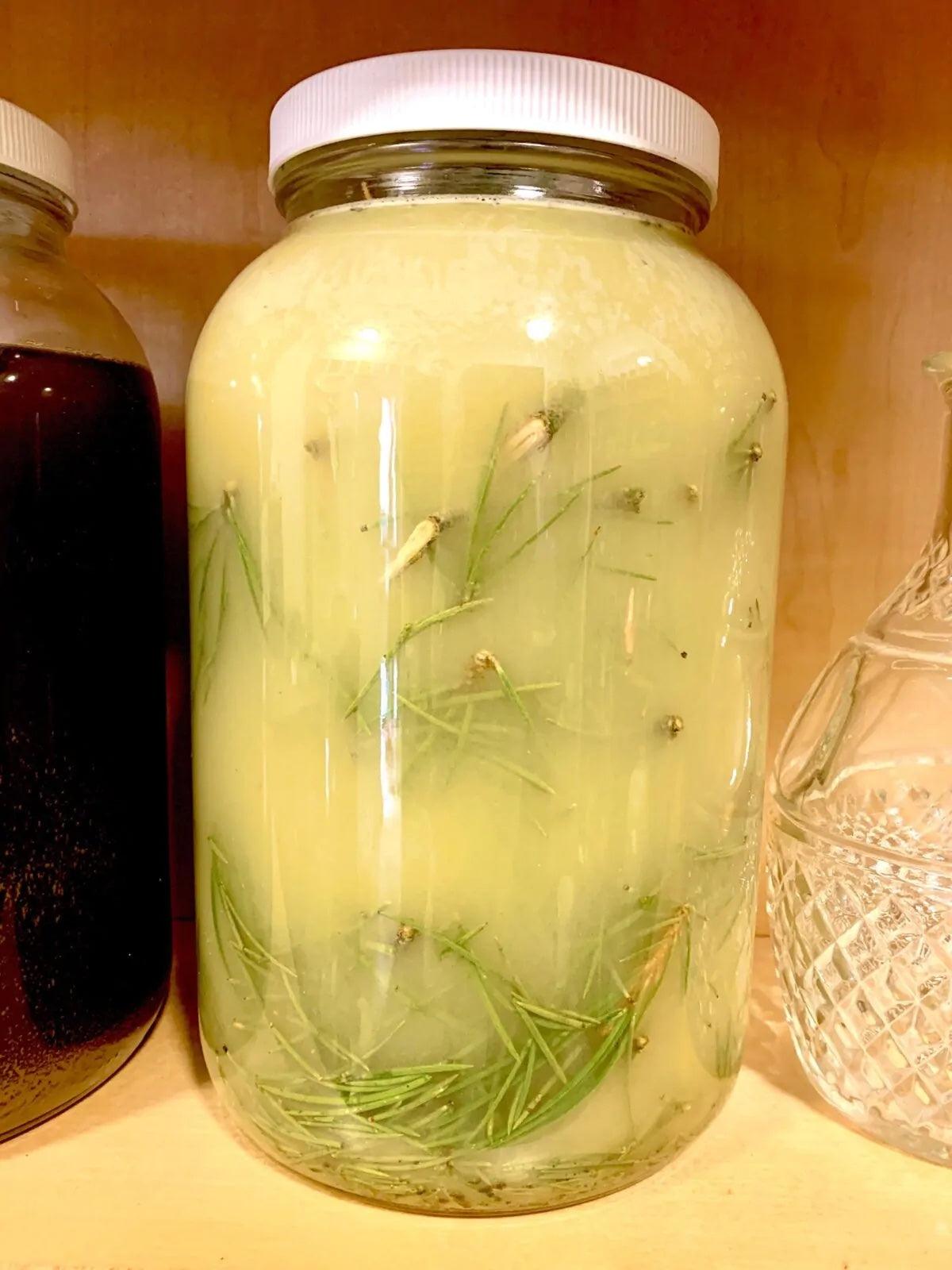 What is a Spagyria?
"Spagyria": spao, meaning separate, and gyre, meaning recombine, is an alchemical process separating the many parts of a plant, purifying and concentrating and then bringing back together into an even more perfectly intelligent & bio-available whole.  This is an alcohol & water extraction combined with calcination of the plant matter back into a pure salt crystal.  The 1st step of this alchemy takes one full 28 day moon cycle timed according to planetary alignment of each specific herb to achieve it's utmost highest vibration & whole healing power.
Spagyria named by a father of alchemy and medicine, Paracelsus, is an initiatory elixir nourishing both the physical, energetic, and soul body of those who receive it. Harnessing the power, intelligence, creativity, and harmony of nature the alchemist aligns with the planets, moon cycles, elements, and their own soul's light, infusing the tincture with the capacity to elevate consciousness.
Learn More
ORGANIC WILDCRAFTED BIODYNAMIC

We carefully select the highest quality, sustainably sourced ingredients

HAND CRAFTED WITH LOVE

Created with heart centered focus and intention in the Red Rock vortex of Sedona, AZ

BOTTLED IN VIOLET GLASS

Offering superior protection for enhanced longevity, potency & purity

ECO FRIENDLY PACKAGING

Packed with care and love-in blessings; shipped in compostable packing peanuts
Produced from the highest quality ingredients
Fresh, raw, local, vegan, wild, organic and biodynamic ingredients including wild-harvested herbs picked by hand in prayerful communion.
We choose to always be in our highest state of presence and peace when creating our products because we are committed to bringing you the most potent activating elixirs to assist you on your ascension journey.
It is an extension of what we believe and how we live as stewards of this Planet.
More about us