This Jasmine Aromatherapy Mist is intended to instantly transport you to a heavenly experience of Passionate Magic
Regular price
Sale price
$33.00 USD
Unit price
per
Sale
Sold out
Primary Benefits

*Lift Your Emotional State to Raise Your Spirit and Energize Your Soul
*Inspire Creativity and Excitement
*Activate Your Sacred Sexuality & Blissful States of Love
Ingredients

Bergamot essential oil, Pure night-blooming Jasmine Sambac essential oil, Lavender essential oil, Patchouli essential oil, Star Jasmine flower essence, Shiva Lingham gemstone essence, Fire Agate gemstone essence, Moonstone gem essence Infused in: Blessed Sacred Water & Organic Grape Spirit (Alcohol) + mono-atomic gold Ormus.

Jasmine sambac is an absolute as it's not possible to use steam distillation. All other oils are steam-distilled and sustainably Wild-crafted / Organic.

(1.69 fl oz / 50 ml)
How to use

Mist in the car, home, or out in the world - clear any situation and inspire the moment - Spray your face and deeply inhale to refresh!
Shipping

We ship with care from AZ or MI, USA within 1 business day.

For questions about the status of your order, please email: support@kejiwastore.com
Return policy

We accept returns of unopened / unused alchemy within 30 days of receiving your order.

To initiate a return, please email: support@kejiwastore.com
View full details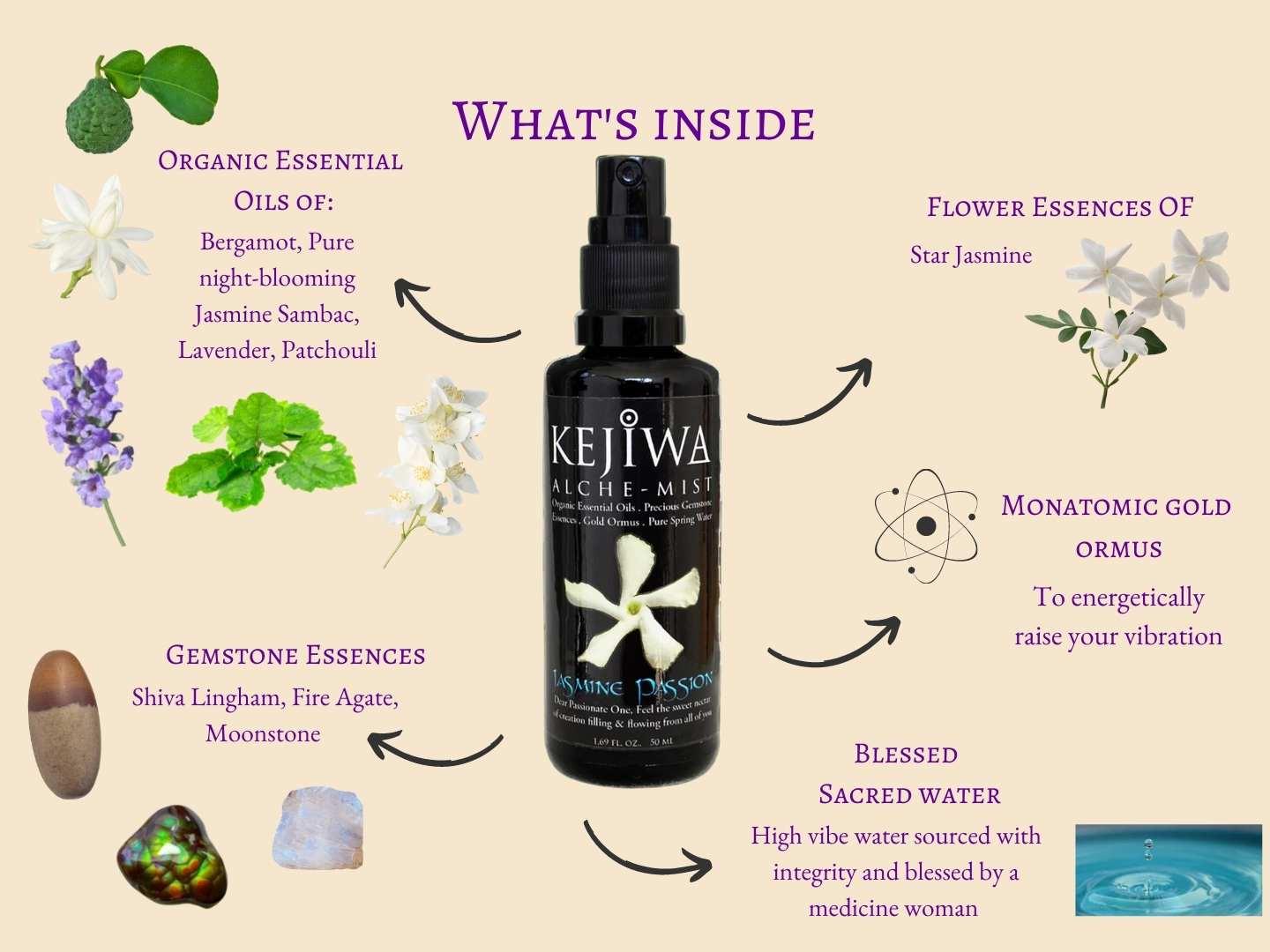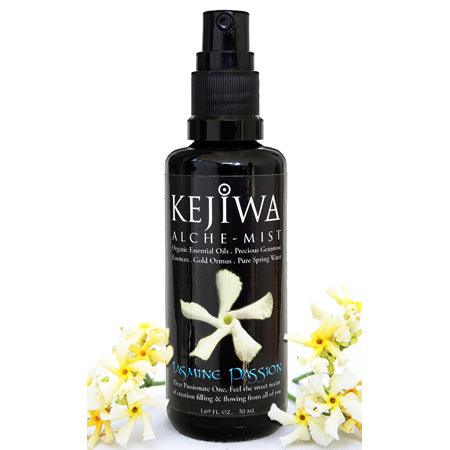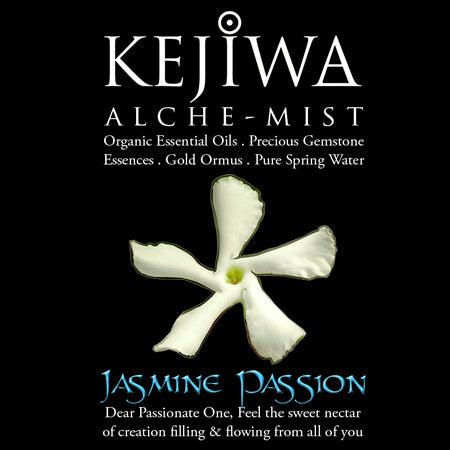 Jasmine Passion Alche-Mist
A delightfully enchanting scent that instantly awakens your soul and energizes your spirit, opening you to receive the gifts of the present moment. 
Jasmine has been used for hundreds of years as a natural remedy for depression, anxiety, emotional stress and insomnia. This unique formula brings in Bergamot essential oil for its bliss-boosting, intuition-enhancing, life-loving properties.
RELIEVE STRESS AND ANXIETY

- R

educes stress, anxiety, depression, and fatigue while bringing you sustained energy and excitement.
GREATER PASSION AND STIMULATION - Known for its aphrodisiac qualities, this blend t

unes you into your sacred sexuality.
IMPROVE MOOD AND INCREASE ENERGY - The vibrant scent and cooling mist bring an instant surge of excitement to awaken all your senses.
~
Jasmine Passion Benefits:
Jasmine is one of the most powerful aphrodisiacs, quickly working to reverse stress, anxiety, depression and fatigue while bringing you sustained energy and excitement. It inspires you to blossom by liberating and releasing inhibitions. This aroma instantly brings you into the feelings of love, sensuality, creativity and living in the moment.  
Bergamot is like liquid sunshine, assisting you in opening up to life and enlightening any stuck energies.  Bergamot is a boost of bliss!
The Ruby gemstone essence activates your passion for life. The ancient sacred Shiva Lingham stone, representing masculine and feminine in harmony, creates a feeling of unity as it boosts your vitality and balances the whole body. 
Fire Agate gives you the strength to be centered in your truth and protects you from stress and energy drains so you can handle anything that comes your way.

Quickly raises your spirits, calms your nerves and relaxes your body
Heightens passion and serves as a natural mood booster
Serves as a euphoric aphrodisiac
Improves immunity and fights infections
Eases PMS and post-pregnancy symptoms, including depression, anxiety muscle pain and low energy
Boosts concentration and increases energy
Assists in grounding while providing courage and inspiration during spiritual awakening
Aids in the overall improvement of your health and well-being
Enhances intuition and clairvoyance while providing protection 
~
How to experience Jasmine Passion:
There are numerous ways in which you can incorporate Jasmine Passion Alche-Mist into your daily routine.
Fill your room before yoga or meditation, spray it in your car to uplift your spirit on the way to work, keep it on hand to give you a boost when you need to feel inspired or lightly mist your pillows to support a loving & fulfilling sleep.
This delicious natural scent lights up any room and sets the mood for any special occasion. It is easy to carry in your purse for a natural perfume replacement, car freshener, hand sanitizer or any time you just need to boost your mood and re-energize.
~Dear Passionate One, Feel the sweet nectar of creation flowing through all of you.~
ORGANIC WILDCRAFTED BIODYNAMIC

We carefully select the highest quality, sustainably sourced ingredients

HAND CRAFTED WITH LOVE

Created with heart centered focus and intention in the Red Rock vortex of Sedona, AZ

BOTTLED IN VIOLET GLASS

Offering superior protection for enhanced longevity, potency & purity

ECO FRIENDLY PACKAGING

Packed with care and love-in blessings; shipped in compostable packing peanuts
Produced from the highest quality ingredients
Fresh, raw, local, vegan, wild, organic and biodynamic ingredients including wild-harvested herbs picked by hand in prayerful communion.
We choose to always be in our highest state of presence and peace when creating our products because we are committed to bringing you the most potent activating elixirs to assist you on your ascension journey.
It is an extension of what we believe and how we live as stewards of this Planet.
More about us