*NEW!*
Regular price
Sale price
$88.00 USD
Unit price
per
Sale
Sold out
Primary Benefits

*Nourish Your Body and Spirit to Revitalize Your Being
*Digestive Tonic
*Anti-Inflammatory
*Strengthen Immune System
Ingredients

Frankincense, Myrrh & Gold Ormus Ingredients:
Super-conductive mono-atomic Gold / Silver / Platinum group & other essential minerals (condensed from Bokek Sea salt & Pure Deep Sea salt), Blessed Sacred Water & distilled water, Birch Bark extract (Xylitol), Frankincense Carterii, Frankincense Rivae, Golden Myrrh, Emerald gemstone essence & the highest loving intent of light!

*All essential oils are steam-distilled and organic.

~

Anima Mundi's Golden Sun Milk:
Turmeric (Curcuma longa) Root*, Ginger (Zingiber officinale) Root*, Cordyceps (Cordyceps militaris) Mushroom*, Mucuna (Mucuna pruriens) Bean, Maca (Lepidium meyenii) Root*, Cinnamon (Cinamomum verum) Bark*, Lucuma (Pouteria lucuma) Fruit*, Cardamom (Elettaria cardamomum) Seeds*, Vanilla (Vanilla planifolia) Bean*, Clove (Syzygium aromaticum)*, Black Pepper (Piper nigrum)*

*Organic
How to use

Craft this alchemy duo into a delicious and nourishing Golden Sun Elixir.
Keep scrolling for full recipe.
Shipping

We ship with care from AZ or MI, USA within 1-2 business days.

For questions about the status of your order, please email: support@kejiwastore.com
Return policy

We accept returns of unopened / unused alchemy within 30 days of receiving your order.

To initiate a return, please email: support@kejiwastore.com
View full details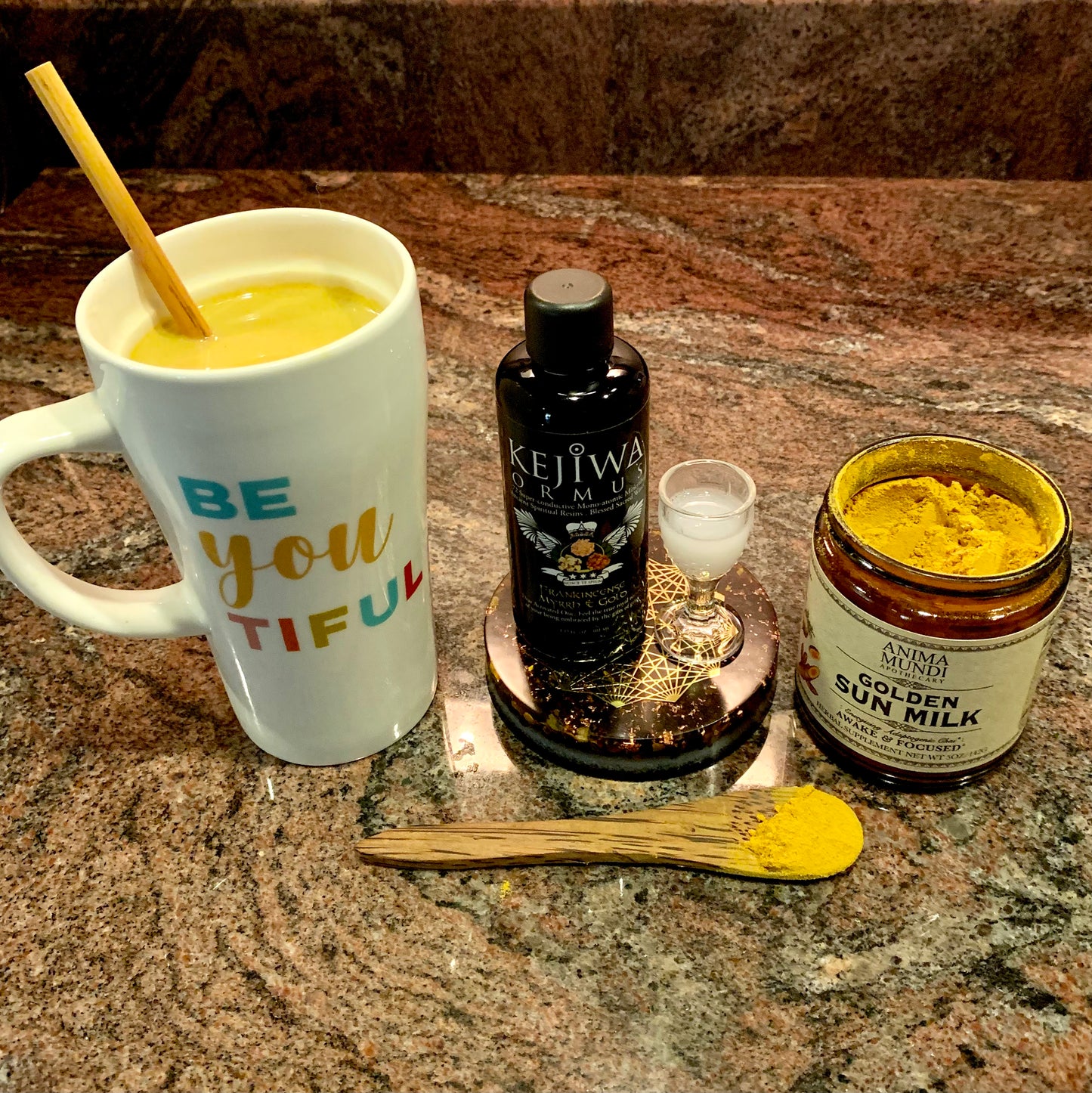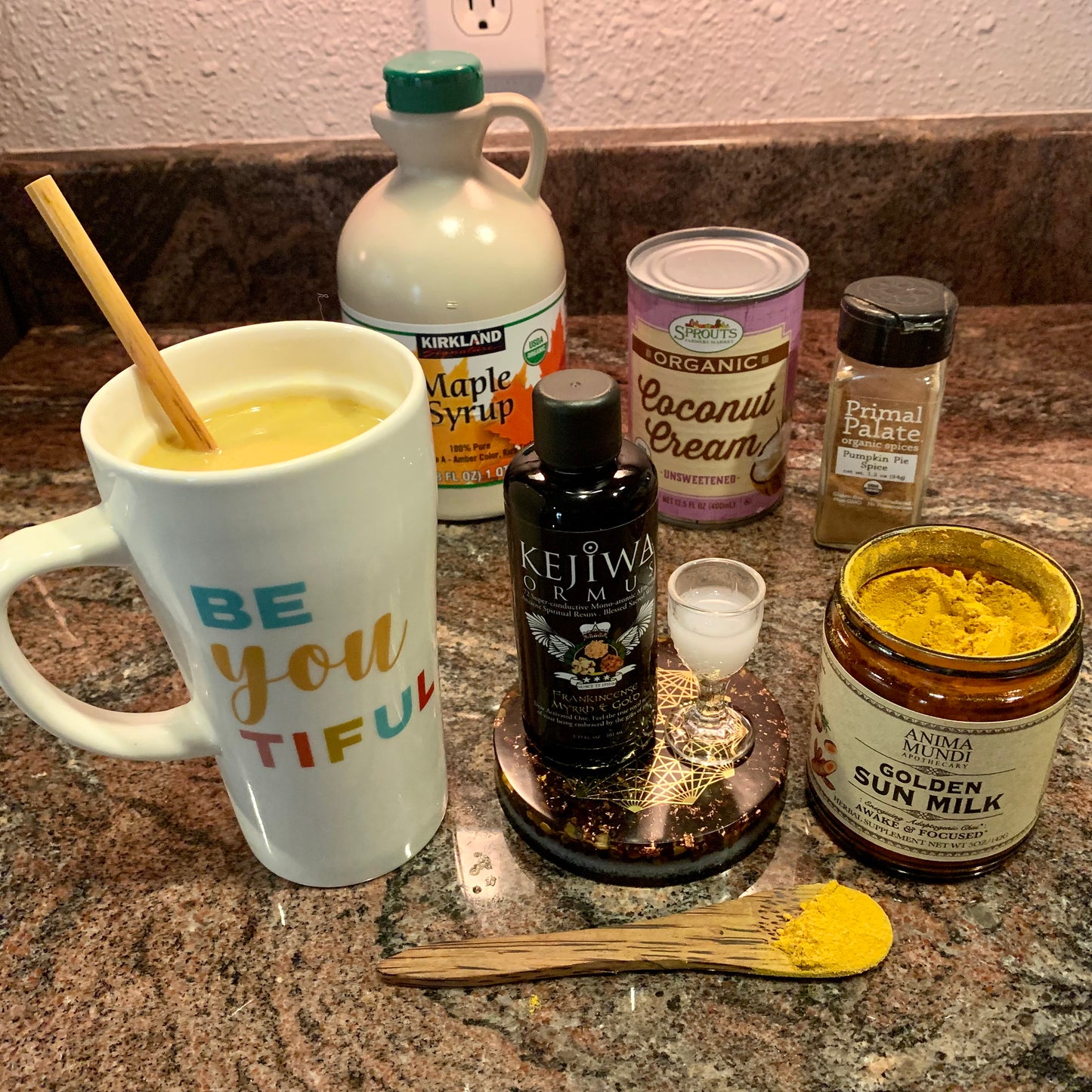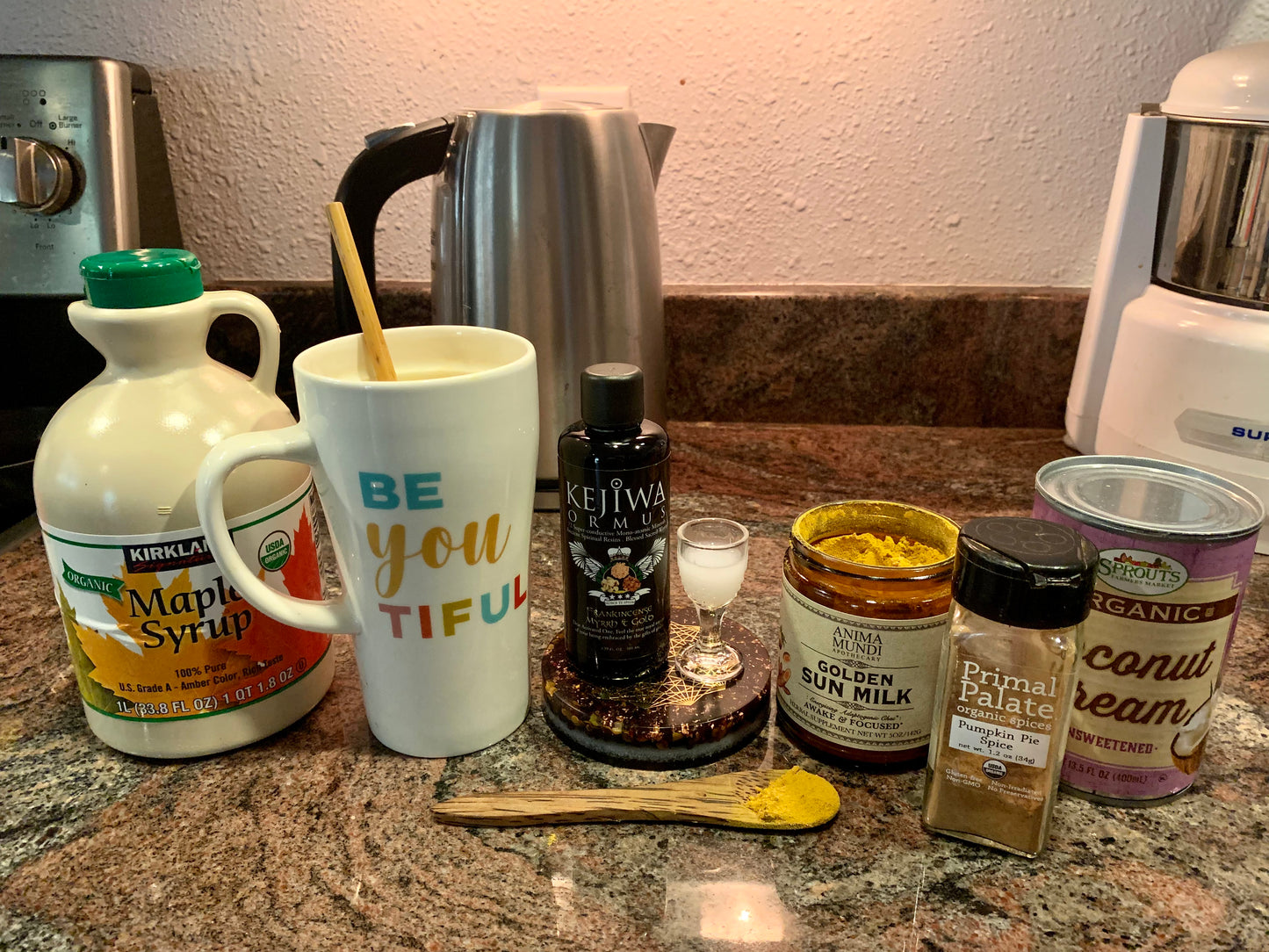 Elevate Your Senses and Revitalize Your Being with the Golden Sun Elixir Duo
Crafted to nourish your body and restore your vitality, this exceptional blend brings together the mystical essence of Frankincense, Myrrh & Gold Ormus with the restorative benefits of Anima Mundi's Golden Sun Milk.
Experience the sensation of time-tested comfort and wellness as you immerse yourself in our realm of exceptional flavor.
Discover a harmonic blend of invigorating flavors that bring about an inner tranquility and enhanced clarity with the Golden Sun Elixir Duo – a unique journey awaits. Invite ancient traditions into your modern sanctuary, allowing your senses to bask in the warm glow of golden delight. With each sip, you embark on a path of renewal, indulging in a moment of resplendent tranquility that lingers long after the elixir is gone.
Experience the Golden Sun Elixir Duo and witness the art of regeneration unfold.
Discover the Golden Sun Elixir Duo Benefits:

*Ancient Wisdom Meets Modern Comfort: A fusion of time-honored traditions and contemporary convenience, offering a harmonious blend of flavors and rituals.
*Nourish Body and Spirit: Anima Mundi's Golden Sun Milk with Ayurvedic spices and Frankincense, Myrrh & Gold Ormus create a potent elixir that promotes radiant vitality and enhanced awareness.
*Digestive Harmony: Ayurvedic spices like turmeric and ginger in the Golden Sun Milk aid digestion, reducing discomfort and enhancing gut health.
*Anti-Inflammatory Support: The blend's rich components carry natural anti-inflammatory and antioxidant properties, soothing inflammation and supporting overall wellness.
*Immune Boost: Packed with immune-strengthening elements, providing a shield against seasonal challenges and promoting robust well-being.
*Velvet Indulgence: Coconut Milk's luxurious texture meets Maple Syrup's delicate sweetness, creating a soothing and delightful sensory experience.
*Revitalize Your Being: Elevate your daily rituals, transcending taste to embrace a holistic approach to wellness and tranquility.
Crafting Your Golden Sun Elixir: A Journey of Taste and Tranquility
Ingredients:
- 1 teaspoon Anima Mundi's Golden Sun Milk powder
- 1 teaspoon Frankincense, Myrrh & Gold Ormus
- 1/4 teaspoon Pumpkin Spice
- 1/4 cup Coconut Milk
- 1 tablespoon Maple Syrup
- Ice cubes (for iced version)
Hot Golden Sun Latte:
1. Begin by placing the Golden Sun Milk and Pumpkin Spice powders into your mug.

2. Add small amount of boiling water, just enough to dissolve the powders, and still until fully mixed in.
3. Add coconut milk and maple.
4. Stir in Kejiwa Frankincense Myrrh and Gold Ormus, infusing it with its divine essence.

5. Top off with hot water, stirring gently to unite the flavors.

6. Garnish with a dash of pumpkin spice
7. Take a moment to savor the symphony of taste and aroma, allowing the elixir to warm your body and soul.
Iced Golden Sun Horchata:
1. Follow the first 2 steps for the hot latte version (yes you're adding hot water as this is the best way to dissolve the powders without getting any clumps)

2. Add ice cubes and stir to cool, creating a foundation for your iced horchata journey.

3. Pour the coconut milk over the ice, watching as it cascades in a swirl of gold.

4. Sweeten your creation with Maple Syrup, adjusting to your preferred level of sweetness, adding a layer of decadence to your elixir.

5. Top off with cold water. Gently stir, mingling the flavors into a harmonious blend.
6. Garnish with a dash of pumpkin spice

7. Take a refreshing sip and let the iced horchata transport you to a realm of rejuvenation and pure bliss.
ORGANIC WILDCRAFTED BIODYNAMIC

We carefully select the highest quality, sustainably sourced ingredients

HAND CRAFTED WITH LOVE

Created with heart centered focus and intention in the Red Rock vortex of Sedona, AZ

BOTTLED IN VIOLET GLASS

Offering superior protection for enhanced longevity, potency & purity

ECO FRIENDLY PACKAGING

Packed with care and love-in blessings; shipped in compostable packing peanuts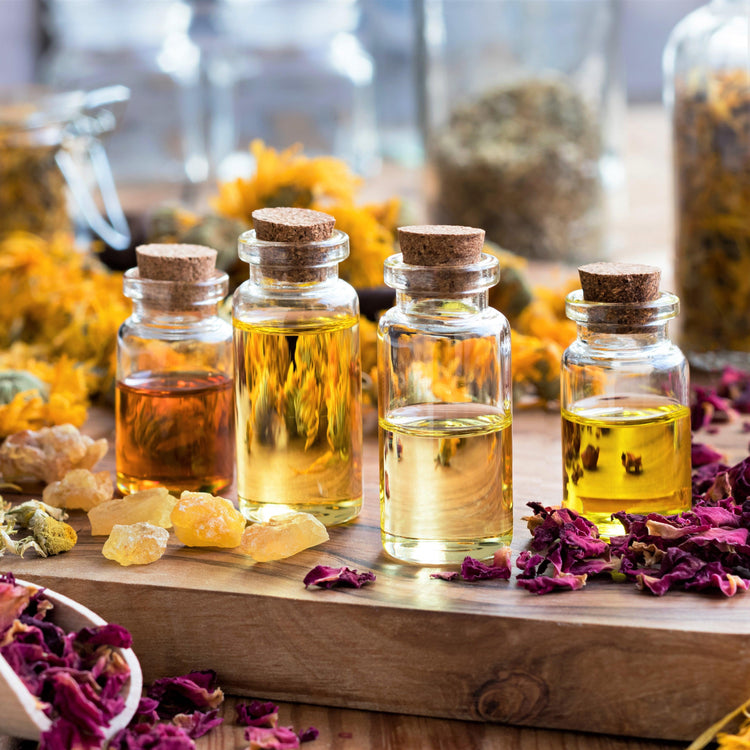 Produced from the highest quality ingredients
Fresh, raw, local, vegan, wild, organic and biodynamic ingredients including wild-harvested herbs picked by hand in prayerful communion.
We choose to always be in our highest state of presence and peace when creating our products because we are committed to bringing you the most potent activating elixirs to assist you on your ascension journey.
It is an extension of what we believe and how we live as stewards of this Planet.
More about us