"smells glorious and brightens up any space... pleasant reminder to be present to the love and beauty that surrounds us"
Regular price
Sale price
$33.00 USD
Unit price
per
Sale
Sold out
Primary Benefits

*Opens Your Heart to Love
*Raises Energetic Frequency
*Gives a Sense of Inner Peace
*Supports Radiant Skin
*Brings Balance & Harmony
Ingredients

Organic essential oils: Sacred Valley Bulgarian Rose Damascena, Rose Geranium & Lavender; Columbine flower essence, Pink Rose flower essence, Orchid flower essence, Star Rose Quartz gemstone essence, Emerald gemstone essence, Ruby gemstone essence Infused in: Blessed Sacred Water & Organic Grape Spirit (Alcohol) + mono-atomic gold Ormus.

All essential oils are steam-distilled and organic.
( 1.69 fl oz. / 50ml )
How to use

Mist in the car, home, or out in the world to elevate any situation and inspire the moment.
Use it anywhere, anytime.
Perfect for home, work or any place you want to reset your energy and open your heart. An activated & more potent alternative to Rose Water.
Shipping

We ship with care from AZ or MI, USA within 1 business day.

For questions about the status of your order, please email: support@kejiwastore.com
Return policy

We accept returns of unopened / unused alchemy within 30 days of receiving your order.

To initiate a return, please email: support@kejiwastore.com
View full details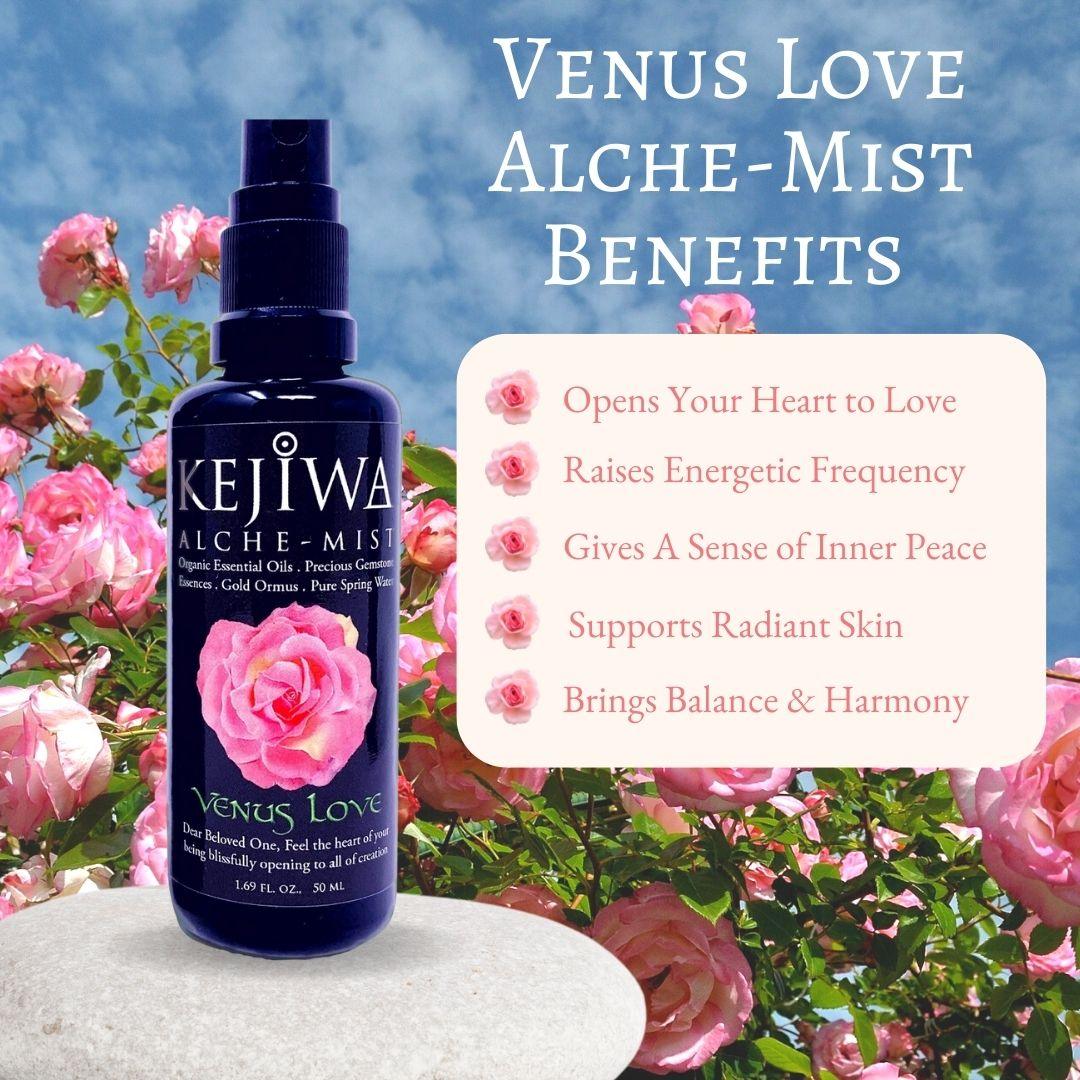 Venus Love (Rose) Alche-Mist
A soothing Rose aromatherapy mist to balance your energy, cleanse your mind and open your heart for calling in love and connecting to desire.
Venus Love Benefits:
RELAX, RELIEVE, REJUVENATE - Quickly raise your spirits, calms your nerves and relaxes your body to create a sense of well-being and inner peace 
OPENS YOUR HEART to receive more love and knowingness of your absolute worthiness; cultivating a pure, nurturing, deep sense of acceptance and self-love
INCREASES ENERGETIC FREQUENCY - Rose offers the highest frequency of all essential oils at approx. 320 MHz
ENHANCED YOUTHFULNESS - Improving the radiance of your skin and serves as a euphoric aphrodisiac
MENTAL CLARITY - stimulates and elevates your mind while easing headaches and nervous tension to bring you into balance and harmony
~


How to experience Venus Love:
There are numerous ways in which you can incorporate Venus Love Alche-Mist into your daily rituals.
Mist your face to refresh before applying makeup, spray it in your car to inspire you on the way to work, keep it on hand to recenter when stressful moments arise and lightly mist your pillows to soothe your senses before drifting off to dream time.
This lovely natural scent lights up any room! Lightworkers delight in blessing up their circle with Venus Love in place of Rose Water to uplift the space and enhance Ceremonies; inviting a graceful flow of loving high-frequency energies into the circle.
Yoga and meditation facilitators utilize Venus Love Alche-Mist to welcome students into the space and mist around everyone while in Savasana to facilitate a calm state of inner peace and self-love.
Hair Stylists, makeup artists and massage therapists (or anyone who desires a calm, relaxing, open space to work in) can utilize Venus Love to fill the room with loving energy and an exquisite natural rose aroma.
Easy to carry in your purse for a natural perfume replacement, car freshener, hand sanitizer or any time you just need to relax and reset.

~Dear Beloved One, Feel the heart of your being blissfully opening to all of creation.~
ORGANIC WILDCRAFTED BIODYNAMIC

We carefully select the highest quality, sustainably sourced ingredients

HAND CRAFTED WITH LOVE

Created with heart centered focus and intention in the Red Rock vortex of Sedona, AZ

BOTTLED IN VIOLET GLASS

Offering superior protection for enhanced longevity, potency & purity

ECO FRIENDLY PACKAGING

Packed with care and love-in blessings; shipped in compostable packing peanuts
Produced from the highest quality ingredients
Fresh, raw, local, vegan, wild, organic and biodynamic ingredients including wild-harvested herbs picked by hand in prayerful communion.
We choose to always be in our highest state of presence and peace when creating our products because we are committed to bringing you the most potent activating elixirs to assist you on your ascension journey.
It is an extension of what we believe and how we live as stewards of this Planet.
More about us