Regular price
Sale price
$36.00 USD
Unit price
per
Sale
Sold out
Primary Benefits

*Nurture Love & Compassion
*Heart Chakra Balancing
*Divine Feminine Goddess Activation
Ingredients

You will receive one Rose Quartz Crystal Wand
Approx. 3" x 1"
How to use

This Rose Quartz crystal massage wand can be used to bring healing to the heart, clear away pains of the past, and draw in clarity in relationships.
Shipping

We ship with care from AZ or MI, USA within 1 business day.

For questions about the status of your order, please email: support@kejiwastore.com
Return policy

We accept returns of unopened / unused alchemy within 30 days of receiving your order.

To initiate a return, please email: support@kejiwastore.com
View full details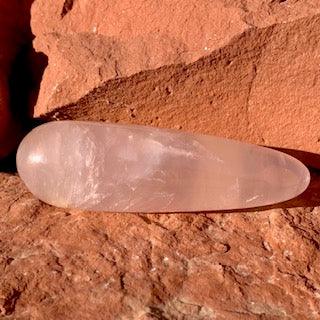 Nurture and Harmonize your Energy with Loving Rose Quartz 


Rose Quartz Crystal has a loving vibrational frequency that aligns your energies with your heart
HEART HEALER: Rose Quartz is the best stone to use for helping us release emotional pain or trauma stuck in our hearts
SELF LOVE: First and foremost, this 'stone of relationships' teaches us that loving ourselves fully is the first step to creating harmony in all our relationships
RELATIONSHIPS: Call on Rose Quartz to bring more love into your relationships, bestowing gifts of compassion, patience, forgiveness, and higher wisdom. Whether a new romantic relationship or deepening a current one, this stone helps bring the highest frequencies of harmonious love to your relations.
NURTURING: Rose Quartz is a stone that can really bring comfort in times of hardship. It's gentle, soft energy is nonetheless powerful and brings us nurturing energy that helps us also find the ability to heal ourselves.
COMPASSION: One of Rose Quartz's greatest gifts is to see through the eyes of compassion. It helps us find forgiveness towards our self / others, and understand how to empathize.
DIVINE FEMININE: The loving energy of this stone has been associated with divine feminine qualities that help us tap into the beauty of the Goddess within and around us
PEACE: Rose Quartz helps us find peace and calm, for both past events and anything taking us away from our center in the present moment. Anchoring us into our heart, it offers deep serenity and peace.

Approx. 
Size
Width: 3"  x 1"
 

As a stone of love, Rose Quartz is a powerful crystal for anyone seeking to bring more love into their life. Rose Quartz connects to the heart chakra, our love center. Rose Quartz is said to help you open and heal your heart, releasing past pain and wounds that have been blocking the flow of peaceful loving energy in our lives. Aligning with its peaceful, gentle energy brings gifts of compassion, kindness, and generosity.
Many people are aware of Rose Quartz being one of the best stones to enhance love in existing relationships, and attract new love. It does this by first helping you understand the power and importance of self-love. It guides us to embody a loving relationship with yourself, knowing that having a loving and harmonious relationship with yourself will influence the quality of all other relationships. It teaches you to love yourself first and foremost.
Rose Quartz properties are well suited for both attracting a new relationship and strengthening an existing partnership. To help you attract new love, the frequencies of Rose Quartz help support you on your healing journey and bring your heart center to its highest frequency. From that space, current and new relationships are enhanced as you are centered and leading from your heart.
Soft and gentle, Rose Quartz is also associated with the Divine Feminine. Its nurturing energy feels like a warm embrace, comforting and calming. Offering gifts of these energies, Rose Quartz can connect us with Goddess energy within ourselves, and around us.
~
Rose Quartz Properties:
Chakras - Heart Chakra
Zodiac - Taurus, Libra
Planet -  Venus
Element - Earth, Water
Numerical Vibration - Number 7
 ♥ Love ♥ Healing ♥ Heart Chakra ♥ Relationships ♥ Harmony ♥ Goddess Energy 

♥
ORGANIC WILDCRAFTED BIODYNAMIC

We carefully select the highest quality, sustainably sourced ingredients

HAND CRAFTED WITH LOVE

Created with heart centered focus and intention in the Red Rock vortex of Sedona, AZ

BOTTLED IN VIOLET GLASS

Offering superior protection for enhanced longevity, potency & purity

ECO FRIENDLY PACKAGING

Packed with care and love-in blessings; shipped in compostable packing peanuts
Produced from the highest quality ingredients
Fresh, raw, local, vegan, wild, organic and biodynamic ingredients including wild-harvested herbs picked by hand in prayerful communion.
We choose to always be in our highest state of presence and peace when creating our products because we are committed to bringing you the most potent activating elixirs to assist you on your ascension journey.
It is an extension of what we believe and how we live as stewards of this Planet.
More about us