*Restocking our Full Size Leo Trio for a limited time!*
Regular price
$144.00 USD
Regular price
Sale price
$144.00 USD
Unit price
per
Sale
Sold out
Ingredients

Mandarin Rose Ormus Ingredients:
72 superconductive essential minerals/ORMEs, Mandarin Essential Oil, Sacred Valley Bulgarian Rose Damascena Essential Oil, Citrine Gemstone Essence, Birch Bark Extract + The Highest Loving Intent of Light! (50 or 101 ml)

Lionsgate Vitality Spagyria Ingredients:
Chamomile Flower, Eleuthero root, Ginkgo Biloba, St. John's Wort, Mandarin Orange Hydrosol/Essential Oil, Grape Spirit (Alcohol), Birch Bark Extract (Xylitol), Vegetable Glycerin + calcined crystal plant salts. (30 or 50 ml)

Lioness Essential Oil Blend:
Jojoba Oil, Essential Oils of: Grapefruit, Neroli Blossom, Bergamot, Mandarin. (5 or 10 ml)

Leo Alche-Mist:
Blessed Sacred Water, Rosemary hydrosol, Ruby Gemstone Essence, Sunstone Gem Essence, Essential Oils: Bergamot, Sacred Valley Bulgarian Rose Damascena, Rosemary, Roman Chamomile. (30 ml)

*100% Wild / Organic / Biodynamic Ingredients
How to use

Scroll down to see full product description
Shipping

We ship with care from AZ or MI, USA within 1 business day.

For questions about the status of your order, please email: support@kejiwastore.com
Return policy

We accept returns of unopened / unused alchemy within 30 days of receiving your order.

To initiate a return, please email: support@kejiwastore.com
View full details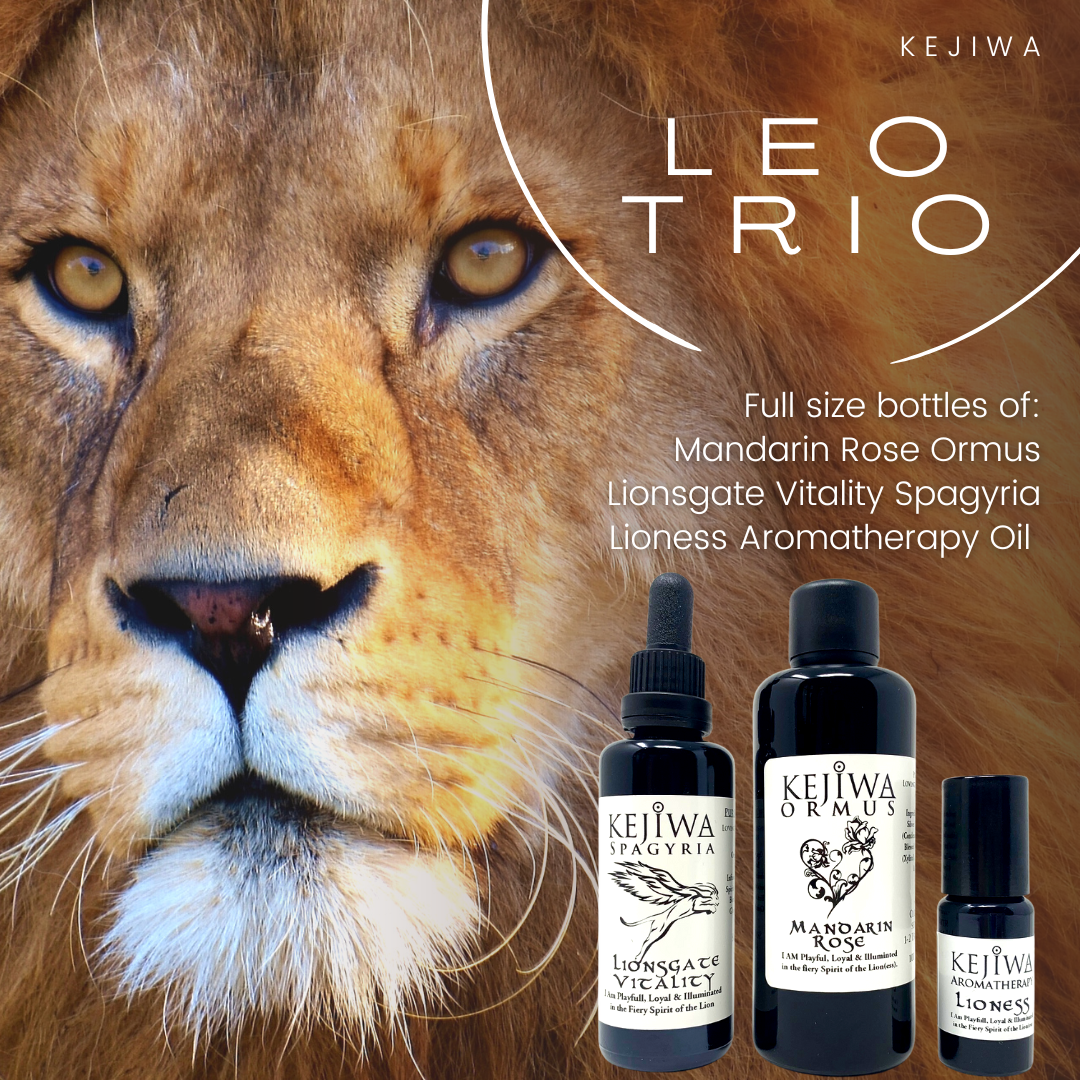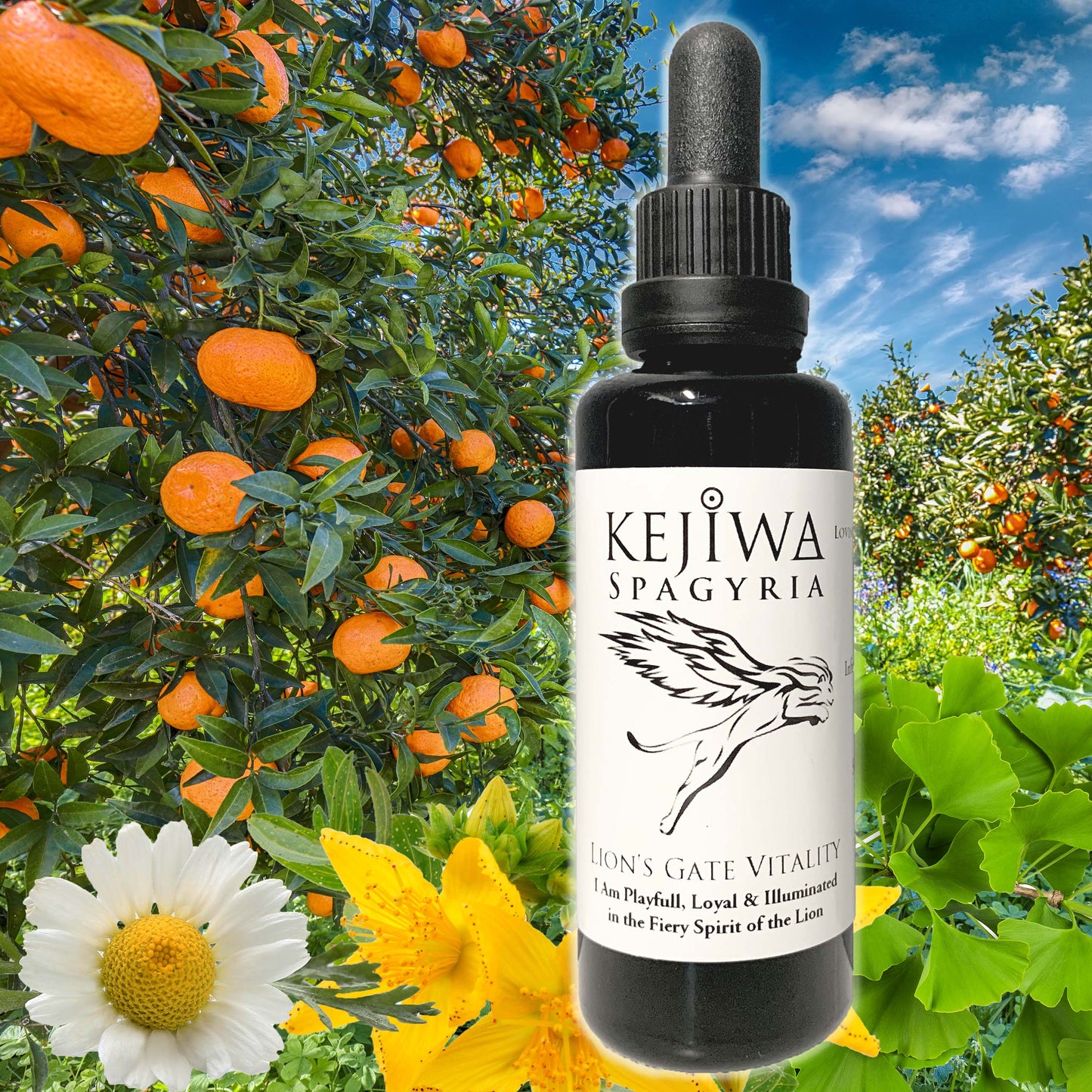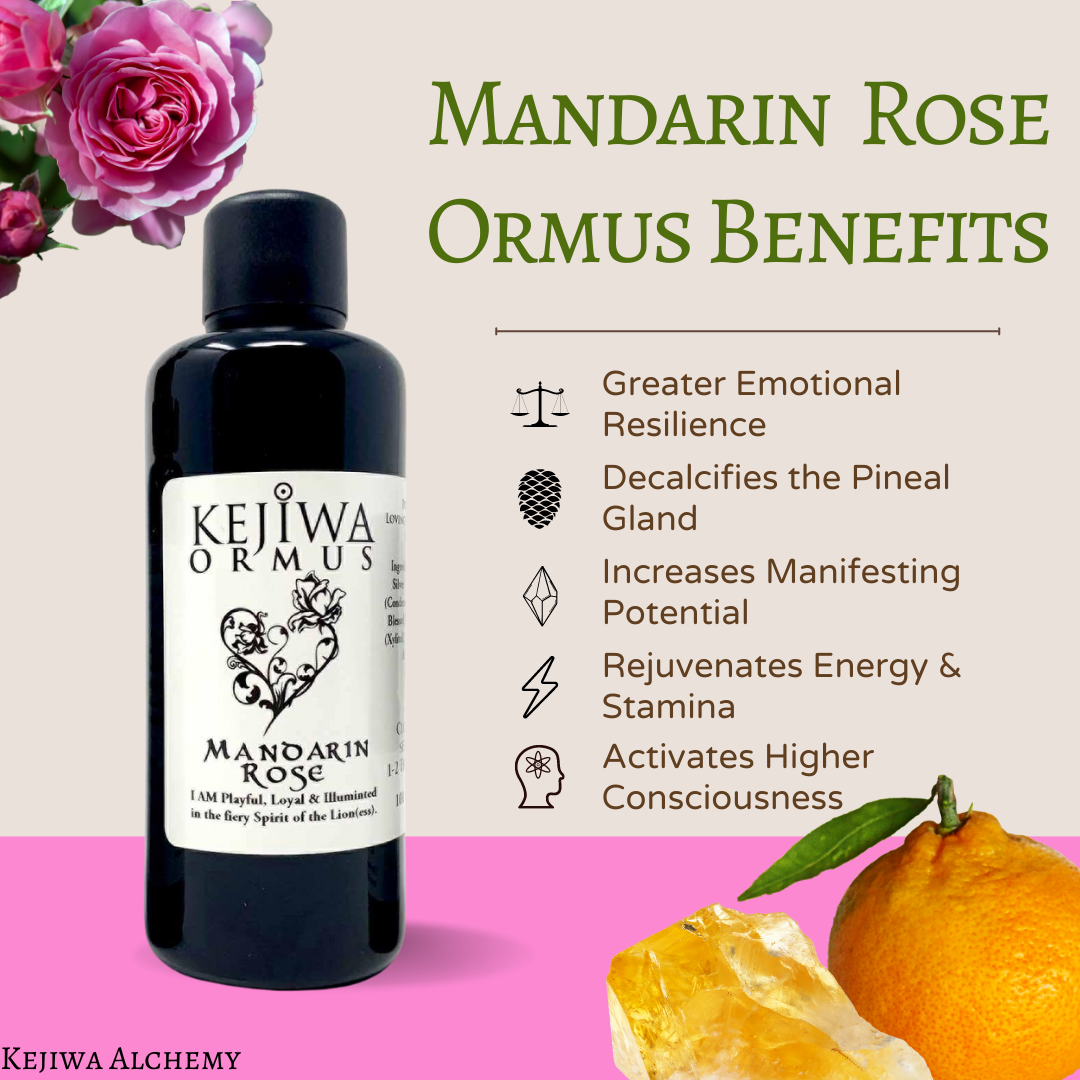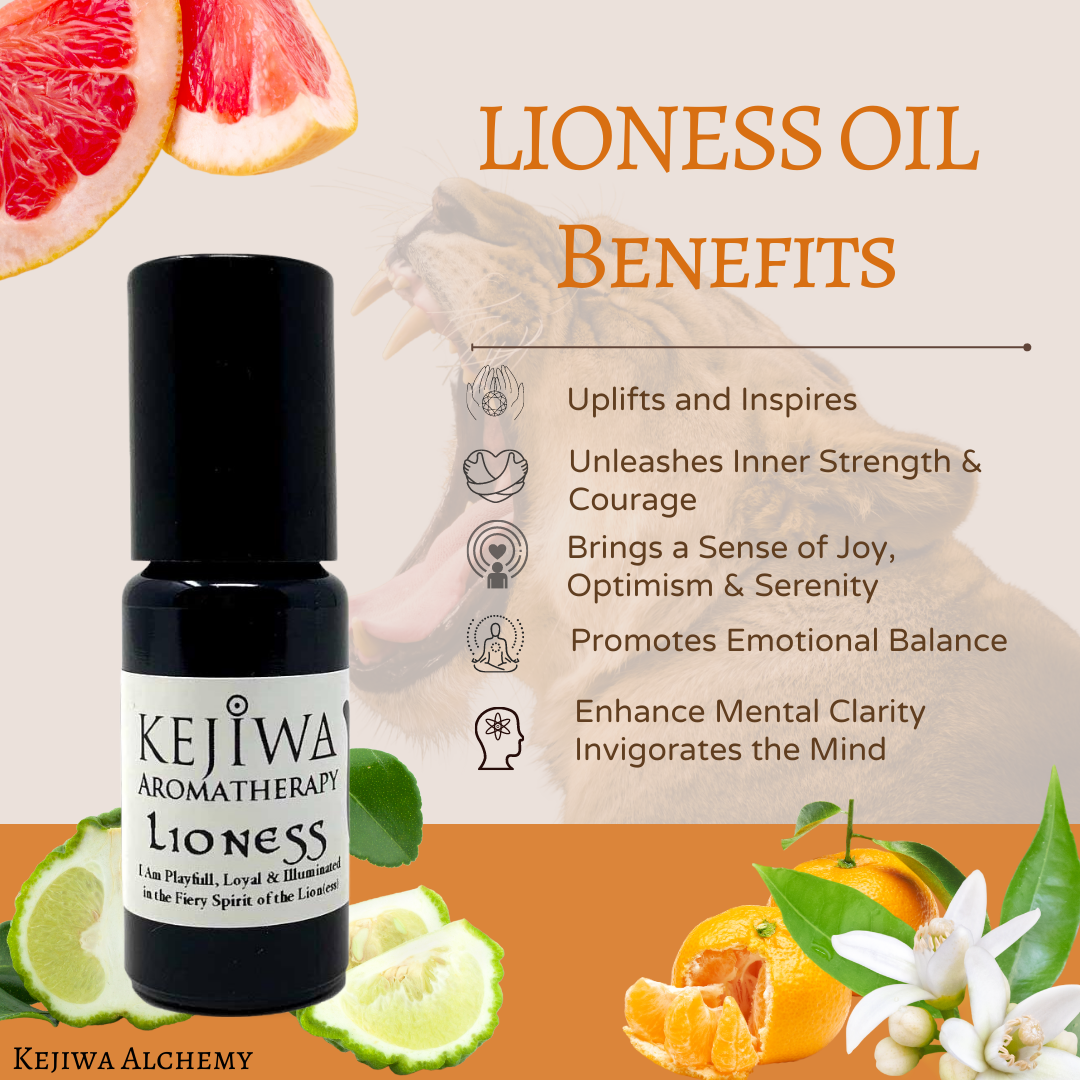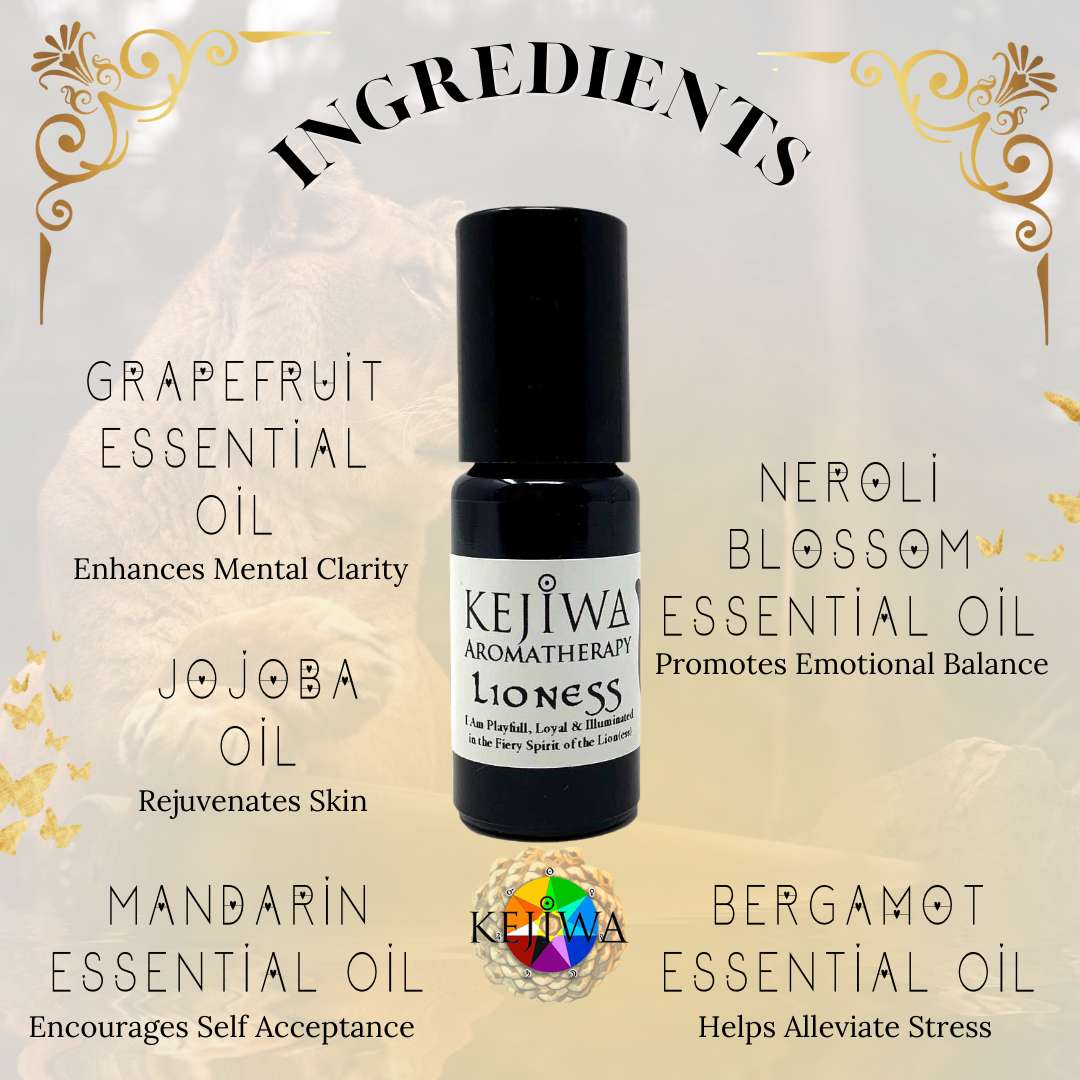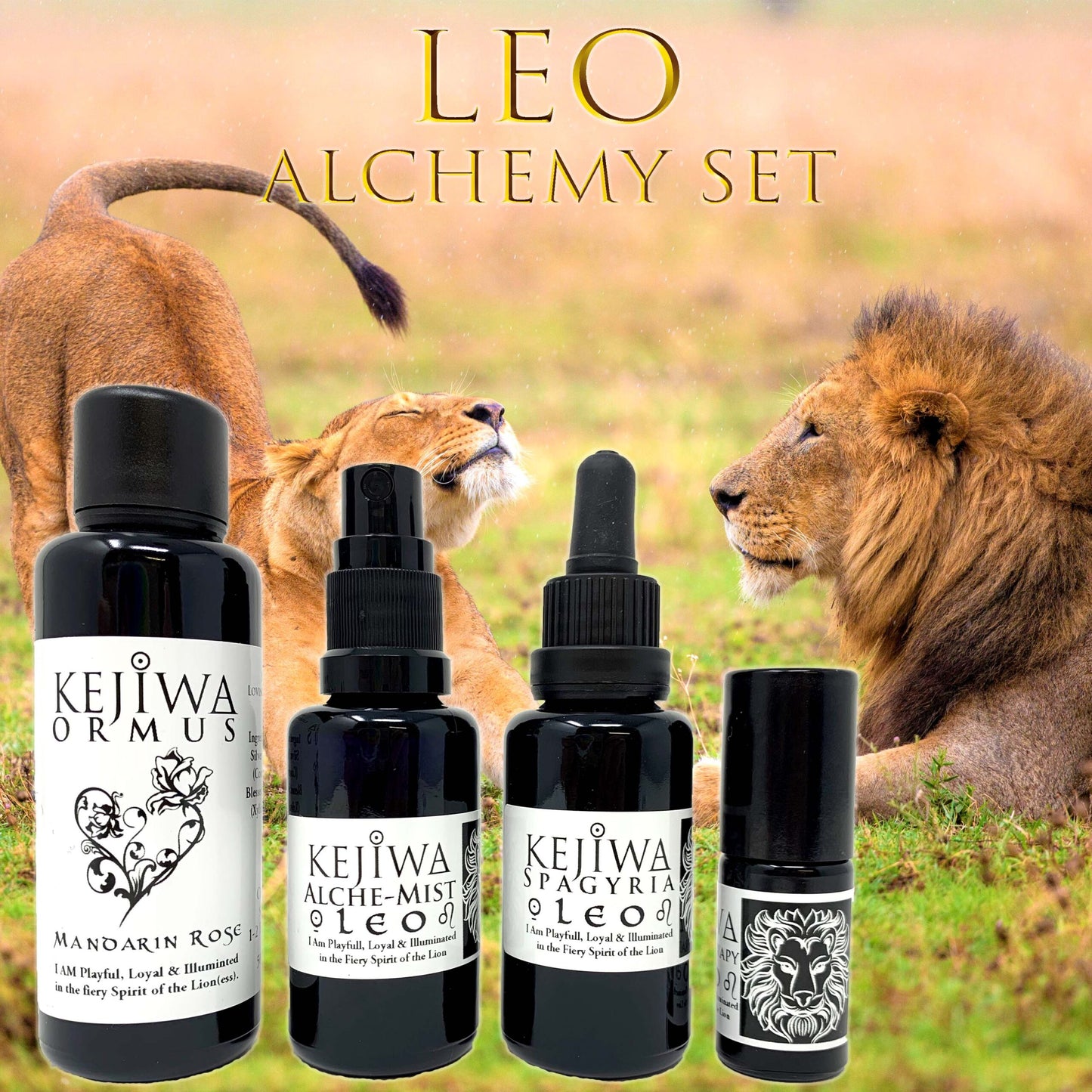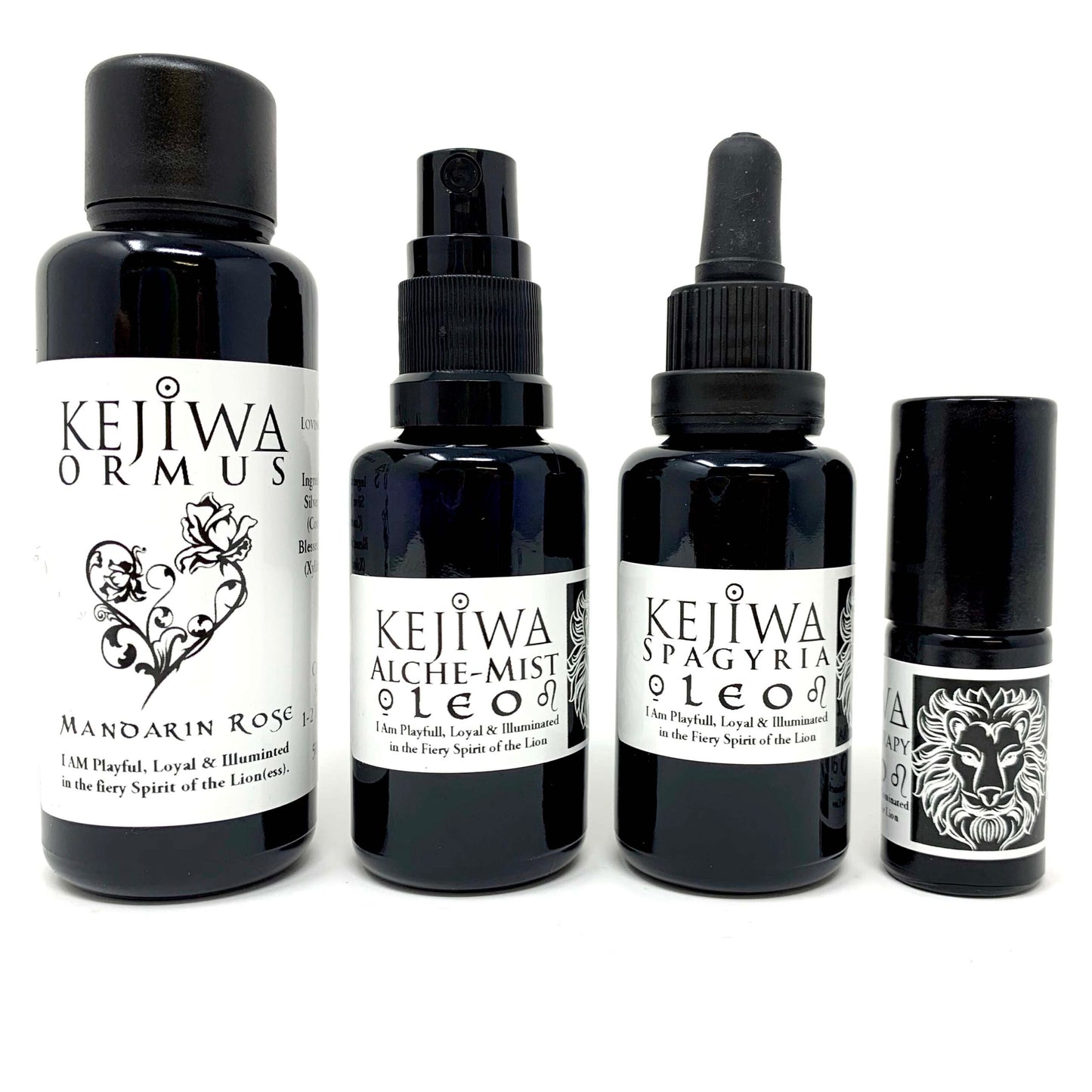 Leo Alchemy Set
Leo Alchemy aligned to the sunny, playful feline nature of Leo the Lion!
Activate your intentions and tune into Leo's Solar Light energy with your personal home alchemy ceremony set!
Sun in Leo: July 22nd - August 22nd
An alchemy set to align with the energy of the cosmos and activate your intentions. Utilize this Leo Alchemy on Sun days or any day you feel called to attune to Leo's playful feline energies and enhanced vitality.


Leo Alchemy is beneficial for:
Sun day alignment, Leo season & Lionsgate portal
Anyone with Sun, Moon or Ascendant in Leo in their personal chart
Any time you want to tap into Leo's playful nature and social grace
Ease nervous tension
Boost your mental capacity and accuracy
Elevate your spirits and sense of well-being
Open and expand your Heart to radiate Love energy
Increase overall Vitality and Radiance


*I Am Playful, Loyal and Illuminated in the Fiery Spirit of the Lion*


~
Leo Alchemy:
Zodiac Sign: Leo (The Lion)
Aligning Planet: Sun
Color: Gold, Yellow, Orange
Gemstones: Sunstone (included in set), Peridot, Citrine, Ruby
Element: Fire
Metal: Gold
Alchemical Process: Calcination
Astro Medical: Heart, Spine, General Vitality
Energetically/ Endocrine: Heart/ Circulation & Pituitary gland
Chakra: Solar/ Crown Chakra
~
Leo Alchemy Set Includes:
FULL SIZE TRIO: 101ml Ormus, 50ml Spagyria & 10ml Aromatherapy
FULL SET: 50ml Ormus, 30ml Spagyria, 30ml Alche-Mist, 5ml Aromatherapy & Sunstone Crystal
Mandarin Rose Ormus Mineral Elixir:
Divinely sweet and uplifting with Mandarin and Rose Damascena essential oils; this Ormus blend elevates the mind while revitalizing your skin and overall sense of well-being.
Lionsgate Vitality Spagyric Herbal Tincture:
Organic Mandarin Orange hydrosol adds a sweet citrus taste to our Leo Spagyria. Experience the comforting warmth of Chamomile flowers, excellent for calming any nervous tension. St John's Wort elevates your mood while Eleuthero and Ginkgo boost cerebral circulation and vitality, improving brain function and accuracy in all you do!
Lioness Aromatherapy Oil Blend:
A skin beautifying blend of citrus oils with a hint of Neroli Blossoms bless up this oil. Apply this oil for a regenerative and euphoric experience.


Leo Alche-Mist:
A refreshing aromatherapy spray including Kejiwa distilled Rosemary hydrosol blended with Rose Damascena, Chamomile and Bergamot essential oils for an uplifting boost to your day. Soothe your senses, clear your mind and foster a space of peace, radiating Love energy.


Sunstone crystal:
Embodying the Radiance of the Sun, its fiery energy brings a sense of warmth, strength and benevolence. It dissipates fearfulness, alleviates stress and increases vitality. Especially helpful to those who have difficulty saying "No" to others. Sunstone facilitates self-empowerment and independence.
All aligned to the sunny, playful feline nature of Leo the Lion!
~
How to:
How to Experience Mandarin Rose Ormus: 

Ormus is a liquid mineral supplement; we recommend fully savoring this experience by first smelling this delicious elixir, then placing 1 - 2 tsp under your tongue (hold before swallowing). Your dose will depend on your sensitivity and desired effects. Please tune in to your own body wisdom.
Close your eyes and take long slow deep breaths as you envision your entire body full of light. Or focus on a specific intention/desire you are manifesting.
Ormus is a sacred substance that is highly sensitive to energy and amplifies any intentions set with it. We highly recommend that you honor this bottle with a special place on your altar and infuse every dose with your prayers.
Sit with this Ormus before meditating to open your Pineal Gland for a deeper grounding and stronger connection to your intuition. Use in Ceremony to support spiritual evolution by offering you the ability to transcend limiting beliefs and rewire subconscious thoughts.
A sip before bed can lure you into a lucid dream state where you can receive clarity on important decisions, solve significant problems, learn to overcome fears, heal deep-seated trauma and open you up to access higher consciousness.
With consistent long-term use, some users are able to activate dormant senses such as clairvoyance, clairaudience, telepathy, telekinesis and more enhanced abilities.


How to Experience Lionsgate Vitality Spagyria:
Take 1 to 2 droppers full, 2-3 x per day by placing under your tongue and breathing deeply; focus on your brow point, visualizing your entire being filling with light, with a smile, while feeling happy, alive and energized in your body. Daily use is recommended and encouraged. 


How to Experience Lioness Aromatherapy Oil Blend:
Inhale from the bottle and/or turn bottle upside down and gently tap the bottom to produce a drop of oil and apply to your wrists, neck, brow-point, and temples. Close your eyes and breath gently and peacefully.
How to experience Leo Alche-Mist:
Mist around face, body and room any time of the day.  Breath 3 of your biggest deepest breaths of the day. Spray it in your car to inspire you on the way to work, keep it on hand to recenter when stressful moments arise and lightly mist your pillows to soothe your senses before drifting off to dream time.


~


Leo Alchemy Ceremony:
This is the powerful Lionsgate Activation!
Gather your Alchemy & Sacred objects & settle into a comfortable space for your Lionsgate journey. 


Starting with a smudge to purify yourself, your space and sacred items.
Place a hand on your heart & a hand on your belly. Breathe deeply to settle into the here & now. As you exhale, tone any sounds that want to come out.
Take a few moments to call in your light from anywhere or anyone you may have left it with. Then visualize your Light essence coming back to you from across all lifetimes, timelines, and dimensions; your light is coming back home to you! 
As your light is integrating back into your being, feel it filling you with strength, fiery passion and loving presence.


Lovingly mist yourself with the Leo Alche-Mist ~ receive the soothing, cleansing & heart-centering botanicals of Rose, Rosemary, Chamomile, Bergamot & Gemstone essences as they kiss your skin. 


Prepare your Ormus & infuse your loving intentions into this superconductive elixir.
Inhale the aroma of the Mandarin Rose Ormus & feel the blissful essence awaken joy, sweetness & love in your being. 


Sip & savor while visualizing Cosmic Christ energy shining in your heart, awakening light codes of higher consciousness in your DNA.⁠


Meditate on the symbol of infinity & feel the vibrations of abundance & eternal life source flowing through you, connecting to All that Is.


With every breath, ecstatically embody full-spectrum Source light of infinite love. As you connect to this divine consciousness, what arises for you? 
Listen to the wisdom of your heart.


Pick up the Lionsgate Spagyria & give thanks for the calming, elevating, brain-boosting herbs of vitality. 
Place 1 or 2 droppers full under your tongue and feel the warmth of circulation, energizing you as you envision every cell filled with vibrancy. 
Sit with this radiant energy as you envision embodying your highest purpose.


Open your Aromatherapy oil & breathe in the aroma of Grapefruit, Neroli Blossom, Bergamot, & Mandarin. 
Roll this euphoric oil onto your wrists & neck, enjoying the sensuous botanical sun rays uplifting your body, mind & spirit.


Close by thanking Creator for this healing Lionsgate portal & for all the plant, mineral & spirit essences that blessed you with their love-in support.
Thank you for taking the time for you to activate and amplify your energy and source Light within you. What a powerful portal to step up into your highest self embodiment!
Blessings on your Ascension Journey!
ORGANIC WILDCRAFTED BIODYNAMIC

We carefully select the highest quality, sustainably sourced ingredients

HAND CRAFTED WITH LOVE

Created with heart centered focus and intention in the Red Rock vortex of Sedona, AZ

BOTTLED IN VIOLET GLASS

Offering superior protection for enhanced longevity, potency & purity

ECO FRIENDLY PACKAGING

Packed with care and love-in blessings; shipped in compostable packing peanuts
Produced from the highest quality ingredients
Fresh, raw, local, vegan, wild, organic and biodynamic ingredients including wild-harvested herbs picked by hand in prayerful communion.
We choose to always be in our highest state of presence and peace when creating our products because we are committed to bringing you the most potent activating elixirs to assist you on your ascension journey.
It is an extension of what we believe and how we live as stewards of this Planet.
More about us